--- vital stats ---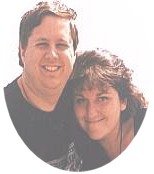 We met October 18, 1990, in Brookline, Massachusetts. On our 8-month anniversary, walking along the beach in Long Beach Island, New Jersey we became engaged, and were married in Chestnut Hill, Massachusetts August 30th, 1992.
And so our story begins...
Spare Time. When we're not geeking out at the computer for hours at a time, we generally like to walk along the beach, collecting sea glass and shells; going to sporting events (Boston Red Sox and New York Mets), comedy and New York theater.
We work to get a break from Spare Time, and our friends remind us of things more important than work.
--- the latest ---
Celebrity Files
Drew Bledsoe, Steve Winwood, more...


Of dogs and men (and women and cats). One more truth about evolution, relationships, the soul, and...cats and dogs.
Travel. See vacation photos of California/Nevada, or our most recent big trip in July of 1997 to Israel.
--- etcetera ---
Telemarketing.

How frustrating is it to get up in the middle of dinner to get the phone, only to discover that someone thinks you need a yet another credit card or a magazine subscription? We have fought back with this survey for telemarketers.